WELCOME TO MIDDLE SCHOOL
Cambridge Christian Middle School offers a rigorous college preparatory educational experience that is grounded in Biblical truths.
At Cambridge we are all about academics, relationships, and spiritual growth:
Academics
The academic program is designed to actively engage learners and inspire them to love learning. Small class sizes create safe learning environments where students collaborate and develop as 21st century learners. The middle school program provides a rigorous selection of course offerings that enhance and support academic growth. We offer three high school level courses and a varied selection of electives. In the fall of 2018-2019, the high school will be launching a new STEM diploma track program designed for students interested in engineering and life sciences. Our middle school program will offer prerequisite courses for students interested in pursuing the high school STEM track.
Relationships
CCS is intentional when it comes to building strong, authentic relationships. Our middle school faculty is genuinely committed to establishing relationships with students and families to reflect Kingdom Education principles. Through this partnership, students are supported and encouraged to discover their passions and talents as they purse God's will and purpose for their lives.
Spiritual Growth
Our greatest desire is to see students grow spiritually. Students participate in weekly chapel service and attend bible class every day. Advisory groups, class retreats, and small groups led by high school Ambassadors also provide students with opportunities to grow spiritually. Once a year we have a spiritual emphasis week that is led by a guest speaker.
Our Lancer Life Experience
Middle School is understood by many as the "awkward" time in a young student's life. At Cambridge, it is our goal to provide an experience that rivals this thinking. Middle school students are developing physically, emotionally, intellectually, and spiritually at a rapid pace, and our program cultivates a safe and engaging experience designed to meet the varied needs of each student as they navigate through these middle school years. Research supports higher levels of success among middle school programs that value the assets of building community and parental partnership. At CCS, our middle schoolers engage in community both at grade level and in small groups. The students attend a yearly class retreat, monthly grade-level small groups led by our high school Ambassadors, and joint chapels (MS & HS chapels). All middle school students are invited to attend the quarterly events coordinated by the MS student council and faculty. We want these two years to be the best yet for each of our middle schoolers.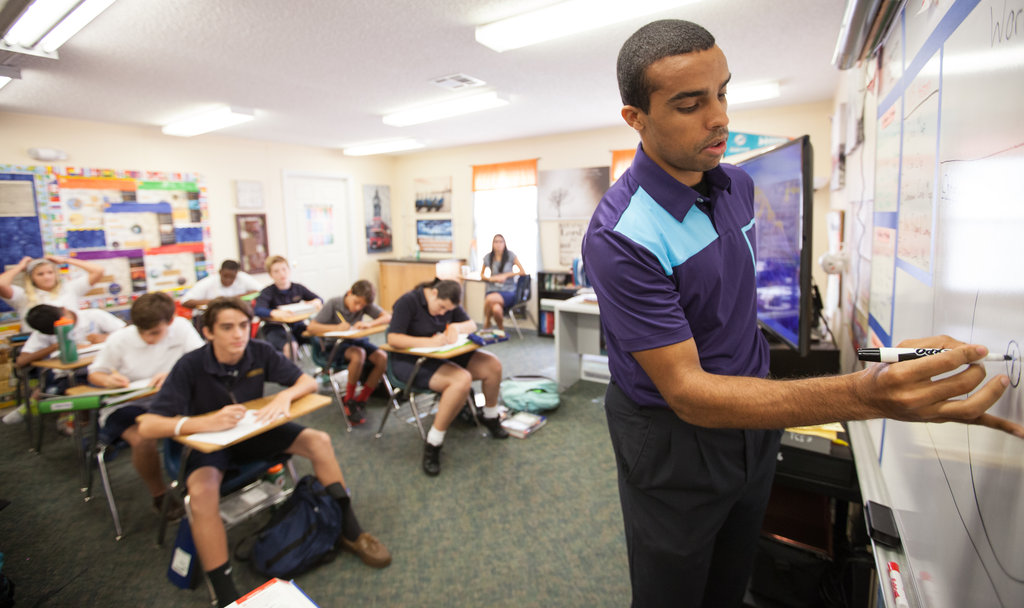 Middle School House System
The houses of Dunamis and Tolmao – Middle School Tradition and Legacy
The MS house system is comprised of two groups, each of which has a blend of seventh and eighth graders. The house system furthers our mission of developing strength of character through servant leadership. The house system is designed to create vertical mentoring opportunities between the grades and encourage a greater sense of community and camaraderie among our middle schoolers. It also encourages student accountability and creates opportunities for constructive competition and leadership development. The house system's goal is to provide students an identity and sense of school pride in a secure and supportive environment. Students are placed into a house as they enter seventh grade and remain as part of house legacy through eighth grade. Each house engages in house events and challenges throughout the year to earn points.
At the end of the year, one house will be awarded the coveted house cup based on points accumulated.
Annual Middle School Events
Homecoming Spirit Days and Activities
Class Retreats
See You at the Pole and Cambridge Days of Prayer
Athletic Seasonal Pep Rallies
Quarterly Fun Events
Academic Competitions
Academic Award Assemblies
National Junior Honor Society induction ceremony
Middle School End of Year Banquet
Yearbook Dedication and Signing
Robotic League Competitions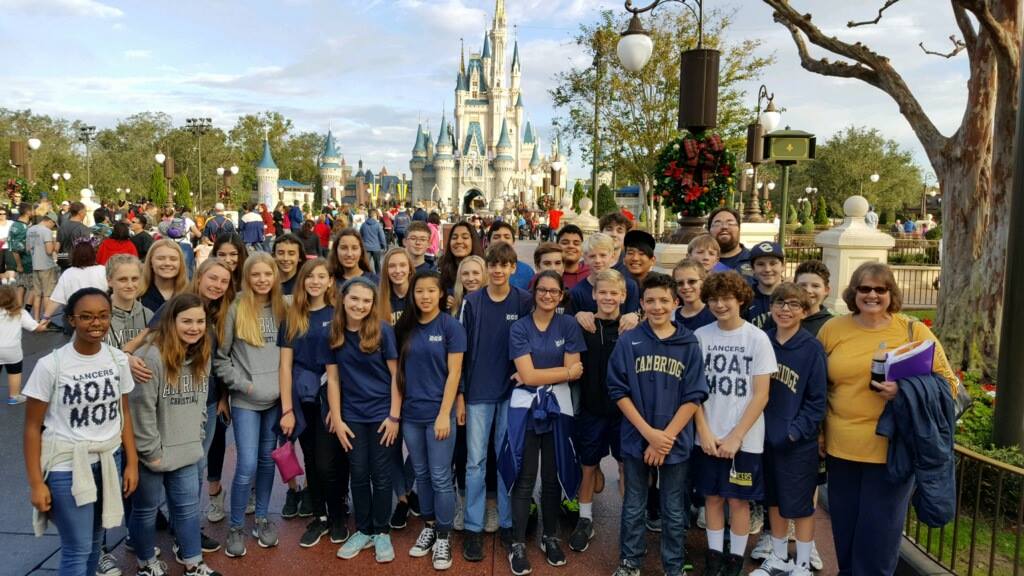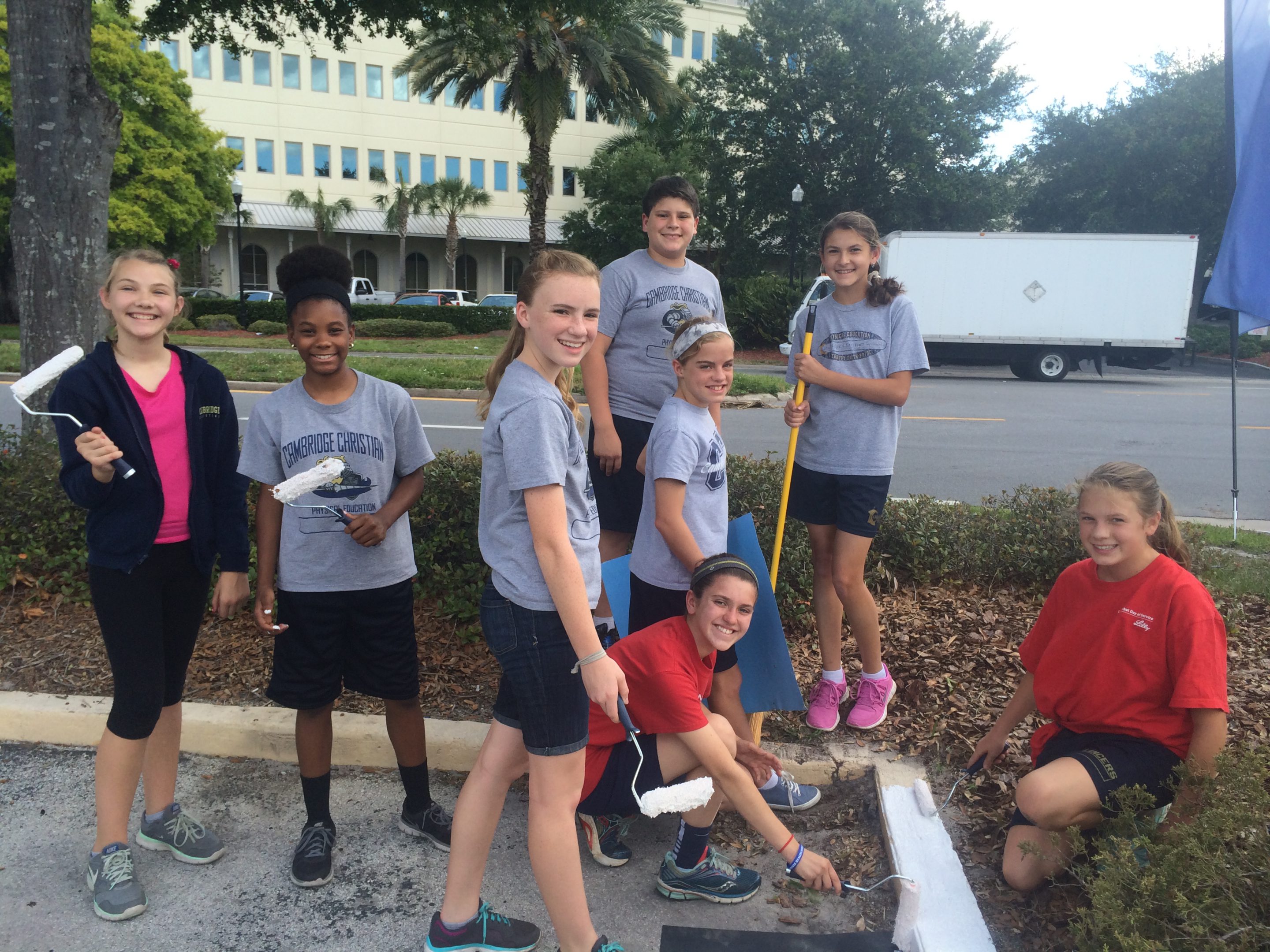 Advisory Groups
Our teacher-led Advisory Groups meet weekly. Advisors meet with students individually to discuss progress throughout the year and provide spiritual guidance. Groups will study and discuss various topics that challenge students to deepen their walk with the Lord.
Topics for the 2017-2018 school year:
August/September – Kindness
October – National Anti-Bullying Month
November – Thanks-living
December – Digging into Christmas
January – Priorities & Choices
February – Walk in love
March – Compassion
April – Under Pressure
May – Faith in Action
Academic and Leadership Organizations
National Junior Honor Society
House Council / Executive Board
F.I.R.S.T. Robotics Team
Servant Leadership & Outreach
Each of the leadership organizations and honor societies adopt an outreach or service project every year.
National Junior Honor Society – Metropolitan Ministries and Oak Grove service projects
House Council and Executive Board – partner with various HS service projects
Grade Level Middle School Class Retreats
Each grade level participates in a class retreat. Retreats are spiritually themed and organized by faculty advisors, high school advisors, and Principals. The 8th grade retreat is an overnight retreat.
2017-2018 Retreats
7th Grade retreat – Dayspring
8th Grade retreat – Cedarkirk
Academics and Curriculum
At Cambridge Christian School our academic philosophy is focused on engaging students in the learning process through an active learning approach that is grounded on the truth of God's word. A Biblical worldview is the core/foundation for all academic courses. Our goal is to prepare students intellectually to engage our culture for Christ. We believe that active learning is the vehicle that inspires our students to embrace their pursuit of academic excellence. Project Based Learning (PBL) is one active learning approach reflected in the middle school classrooms. In PBL, students take a real-world challenge or problem and are provided time in class to think, collaborate, investigate, and explore ways to take on/solve the challenge. As students engage in PBL, they not only acquire a deeper comprehension of the content material, but they also gain confidence in their reasoning and problem-solving skills.
The middle school program provides a rigorous selection of course offerings that enhance and support academic growth. We offer three high school level courses and a varied selection of electives. Prerequisite courses are offered for students interested in pursuing the high school STEM track. Small class sizes create a learning environment in which students can excel academically.
COLLEGE PREP
College advising at Cambridge Christian is an individualized and personalized program that formally starts in the 9th grade.In the spring each year, the Guidance Office spends time with our 8th grade students to complete a High School Prep for Success program. This program focuses on a successful transition from 8thgrade to high school.
CONTINUE ON TO HIGH SCHOOL!