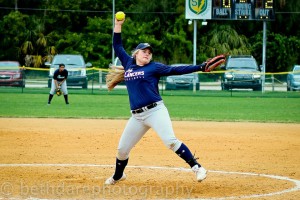 Female Hot Shot winner Alea White, Cambridge Christian
Tampa Bay Times
Article by: Bob Putnam
Cambridge Christian's Alea White was pitcher perfect Monday against Citrus Park Christian.
The junior threw her first perfect game of the season, striking out all nine batters she faced in a game that was called after three innings because of the mercy rule.
The nine strikeouts puts her at 913 for her career, which started at the varsity level in the seventh grade.
White was playing softball much earlier than that. She started when she 5 years old and began pitching when she was 10. Her role model was former Olympian Jennie Finch.
Through the years White tinkered with a number of pitches. Her current repertoire – fastball, screwball, riseball, dropball, curve and changeup – is made more effective by her velocity (she usually throws more than 60 mph). From 403 feet away, all of this is enough to make opposing hitters uneasy.
That kind of speed and movement can make catchers on White's team uncomfortable, too. The Lancers are young, with five seventh graders and four freshmen on the roster. They already have used three catchers this season.
"I knew I was going to have to be more of a leader on this team, and I love that role," White said. "I know some of the girls have looked up to me and I want to help as much as I can."
White already has her college plans finalized after committing to Central Florida in the fall. Now, she is focused on getting her team deep in the playoffs and reaching 1,000 career strikeouts by the end of the season.
Why she won: The ace has racked up strikeouts at a dizzying pace, recording the 900th of her career last week.